Organic potatoes in Mid-Norway – the potential of early cultivars and good agronomy (POTETGIV)
Can early potato cultivars give satisfactory yields before infestation of late blight, and be used for storage? An organic field experiment is conducted on three sites in Mid-Norway during 2019.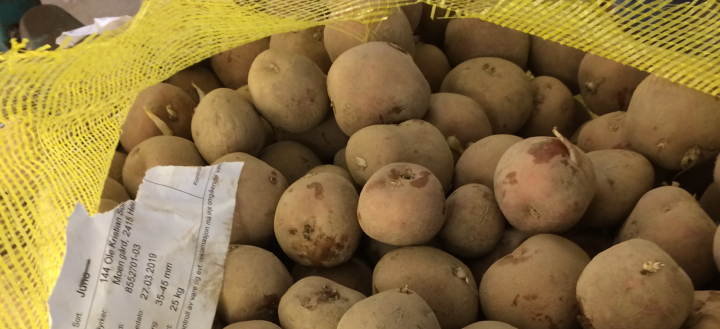 Mid-Norway has a significant organic production, but a scarce area of farmland used to grow organic potatoes. Only 18.5 out of totally about 1700 ha were used for organic potatoes in 2018. The main reason for this lack of interest is fungal disease from late blight (Phytophtora infestans), which is controlled by repeated sprayings of fungicides in conventional growing. The project will test if a good strategy for organic potatoes may be to apply early cultivars, to produce a reasonable yield before the first attack of late blight. The leafy canopy then must be removed by the first signs of attack, to avoid infestation on the rest of the canopy and the tubers. Light treatment, and early planting of seed potatoes will also support early growth. Possibly, the shelf life of the tubers may be sufficient for storage and consumption during winter, but this need to be studied. Resistance towards late blight on tubers and canopy is emphasised in potato breeding, but testing of cultivars with different soil and climatic conditions is limited.

In this project, four cultivars of early potatoes are compared: Hassel, Solist (white), Juo and Rutt (red), with and without light treatment of seed potatoes, and with early and late planting. The fields are fertilised similarly, and located on two farms in Trøndelag and one in Sunndal, Nordmøre. The canopy will be removed upon infestation of late blight, and the date recorded. When all canopy is removed, the yield is recorded. Half of the tubers remain in soil until September, when yields are recorded again. Possibly, the stalks have produced some more dry matter in tubers since canopy was removed? During storage, quality and taste will be tested, and compared with conventionally grown potatoes of a cultivar intended for storage.