Three new biogas projects at NORSØK
There is growing interest in the production of biogas from livestock manure as the need for reducing greenhouse gas emissions increases.
NORSØK will play a key role in this development by participating in the establishment of a national biogas advisory service.
Establishing a national competence hub for biogas and renewable energy
The Norwegian Centre for Organic Agriculture (NORSØK) is cooperating with the Norwegian Agricultural Extension Service, the Royal Norwegian Society for Development (Norges Vel) and Landbruk Nordvest in the establishment of a national competence hub for biogas.
There is considerable interest in biogas production among farmers and other enterprises throughout Norway. However, there is no dedicated extension service with the expertise needed to assist in the establishment of new biogas plants.

- We will produce the bulk of the knowledge needed to establish a national biogas and renewable energy extension service that primarily caters to the agricultural sector, explains the project's coordinator, researcher Ingvar Kvande.

There is a nationwide lack of know-how about biogas and renewable energy production. The project aims to ensure that farmers get the information they need early on in their contact with the agricultural extension service. For example, it is cheaper to incorporate a biogas facility if it is included in a barn's construction or renovation plan than if a completed construction has to be retrofitted.

- We hope that this can lower the barriers and reduce the cost of biogas start-ups on Norwegian farms, Ingvar Kvande continues. By ensuring that farmers from all over Norway have access to scientific results and experiences from other enterprises, we hope to contribute to the realization of well-planned biogas facilities.
NORSØK and Landbruk Nordvest will compile and organize existing knowledge and practical experience from the establishment of farm-based biogas and renewable energy production in Norway. This information will be used to design Norges Vel's course portfolio and to train the staff of the agricultural extension service.

Norges Vel's course portfolio, which in part will be based on NORSØK's research and know-how, will cater to farmers and other stakeholders interested in biogas production. Furthermore, Norges Vel will also help to establish project planning and design expertise in the agricultural extension service for such topics as solar collectors, bio-fuelled district heating and energy saving.

The project is funded by the Norwegian Agricultural Agency.
Compressed raw biogas
This project will assess the feasibility of producing raw biogas locally, instead of transporting livestock manure over long distances to centralized biogas plants.

The project "Transportation of compressed raw biogas" will study the potential of increasing the profitability of the biogas value chain by compressing raw biogas from distributed plants for subsequent purification at centralized upgrading plants – instead of moving large quantities of manure.

- One of the challenges in Norway is that we have many small farm enterprises spread throughout the entire country, explains researcher Ingvar Kvande at NORSØK. Having a few, large biogas plants would involve transporting large amounts of manure over long distances. This is both costly and time-consuming.
Our aim is to develop solutions that enable the start-up of small or medium-sized biogas plants at the hamlet or village level, which in turn can collect manure from the local farmers. Thus, one could avoid having to transport large amounts of manure over long distances to produce biogas. Some of the residual sludge is returned to the farmers' fields as fertilizer, and using local raw biogas production would thus reduce the necessary transport distances.

Upgrading raw biogas to natural gas standards is costly, and hard to do profitably in small facilities. At the same time, it is challenging to sell and distribute gas from many small biogas plants scattered across the country. This project hopes to combine the best of two worlds and thereby increase the profitability of biogas production.

Mære landbruksskole (an agricultural school) is the project owner. The project is a technical-economical study funded by Innovation Norway and carried out in cooperation with:

Mære landbruksskole
Ecopro AS
Sintef Tel-Tek
Tine
Veas
Biogass Møre
Svanem biogass
The project report is expected to be completed in the first half of 2021.

Follow-up of an operational biogas plant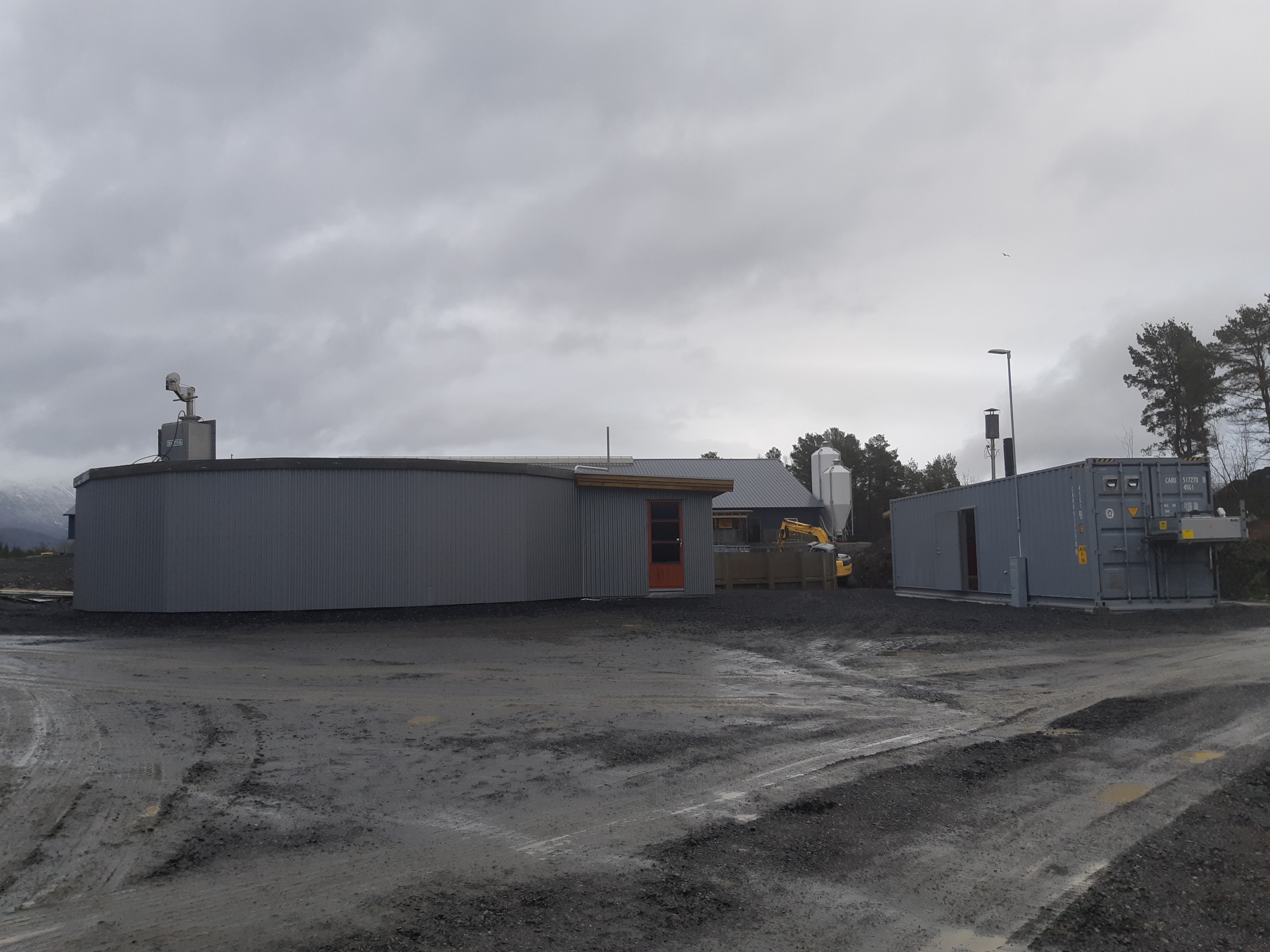 Inge Hoemsnes runs a farm in Hustadvika municipality on the north-western coast of Norway. The farm's biogas plant was put into operation in late 2019, and is thus Norway's newest on-farm biogas facility.
After running for nearly a year, it is time to collect data and experiences to enable the further improvement of the plant's operations. The plant's 50 kW generator produces power and heat for the farm's own needs.

- We'll be running tests, doing analyses and collecting data on how to optimize the operation of both Inge's as well as other plants in Norway, explains researcher Ingvar Kvande.

Collected data will be used to adjust such parameters as feed rates, mixing and on-farm energy utilisation and to optimise the farm's fertilizer plans based on the effects of the digestate (material remaining after anaerobic digestion) on plant growth.

Chemical analyses will be carried out on the substrate and the digestate. The farm's mix of pig and cattle manure has not been studied much as a biogas substrate. This adds extra value to the data collected from this plant. Such new data will provide a better basis for optimising both existing and future plants.

The project will also measure how effectively the plant utilises electricity and heat, and will assess ways in which to improve energy utilisation. Such information will help to calculate the profitability of new biogas plants.

After the manure has been digested to produce biogas, the residual slurry will be returned to the fields as a nutrient source. It is important to study the slurry's fertilizer effect, so that the farm's fertilizer plans can be adjusted accordingly. NORSØK is cooperating with Landbruk nordvest on this part of the project.

The project is funded by the Møre og Romsdal County Council.