Pioneering the Focus on Soil Management and Soil Structure
The «Living Soil» project aims to inspire and share experience and knowledge about the soil; with a specific focus on soil biology, ecology and sustainability.
After witnessing increasing soil compaction, decreasing soil organic matter content, deteriorating soil crumb structure and declining yields, the Department of Agriculture in Buskerud County applied and was granted funds for the project "Living Soil" in 2010, see  . The main project goal is to contribute to sustainable, healthy and increasing organic food production by stimulating soil biodiversity and building up the soil's organic matter content.
ledge about the living soil
The "Living Soil" project aims to disseminate knowledge and experience by arranging courses, field days and seminars. Instructional videos will be made about such topics as soil biology, practical soil texture determination and compost preparation. On courses, field days and trials, project participants will examine soil conditions, including soil structure and soil biology. This will be done with the spade diagnosis, which will be used to discuss the plough pan, soil compaction and crumb structure. A penetrometer will also be used to measure the extent of soil compaction. Classification of earthworms and springtails and the recognition of soil bacteria and fungi is taught at specific courses. These activities aim at increasing awareness for and interest in soil compaction and soil biology among practitioners, farm advisers and others working on soil and compost-related issues. Info sheets about various soil organisms have also been published, see http://www.agropub.no/id/10808. Additional info sheets are in preparation.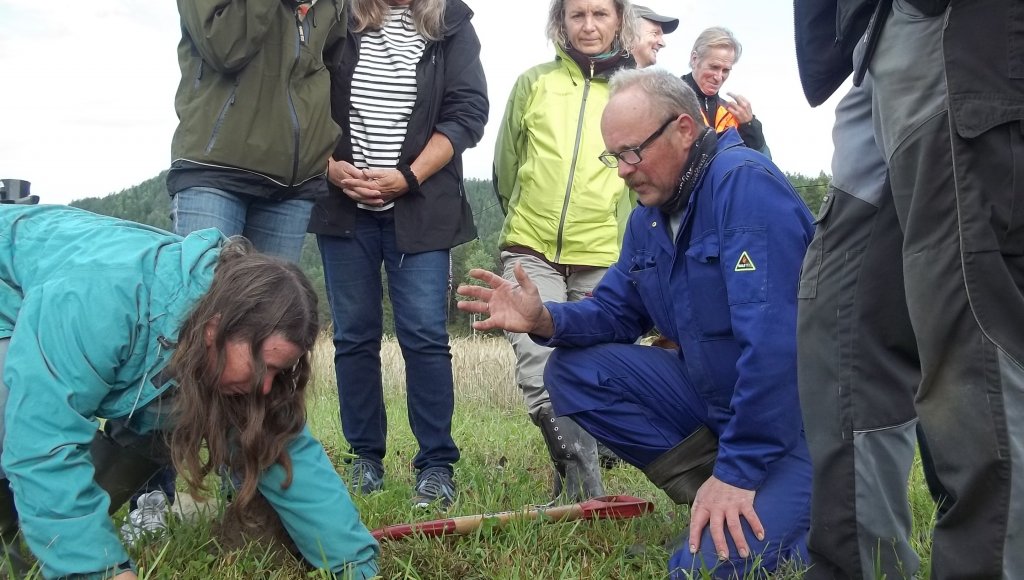 Building up soil organic matter
In 2015-2016, nine different treatments are being tested in a grain field in Sigdal (eastern Norway) to study the build up of soil organic matter and the effects on soil life. In 2015, a cereal farmer in Sigdal is also testing a crimper-roller (not cutting) to terminate a green manure, followed by direct seeding of winter grain.